Dear friends,
finally we can start – after a long odyssey the material arrived at Lingueglietta and the first results of my work are present now …
Due to many requests if the nine "Primavera Blues Greetings" are available in singular pieces – no, I am sorry they are not, they are parts of a total – so I decided to transfer it into graphics.
This accommodates with my mode of operation: to play around with a certain protagonist in different methods – a sketch becomes a sculpture, gets a painting or a graphic … with its particular mode of expression.
Graphic art – I generally prefer dry point – is in advantage, because it can be printed in few copies. In this case it will be 15 copies per sheet..
By means of a small series of photos, which are documenting the versatile process you can follow my work..
Phase I – Studio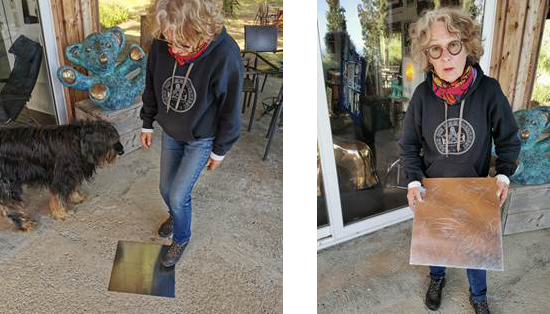 "Search for traces" – I am dashing the zinc plate on the cracked cement floor jumping on it, injuring it..
The scratches are as intentionless, rhythmic and dense like snow is
distributing on fir trees. They produce a structure – an almost textile stuff,
where the protagonists know to ensconce.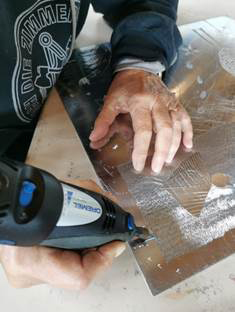 For the darker zones the Dremel is in use, a kind of hand drill.
Dash per dash per dash is placed closely side by side. In case it should be darker, the stripes have to be crosswise overlaid.
Like that also different colour gradients will occur.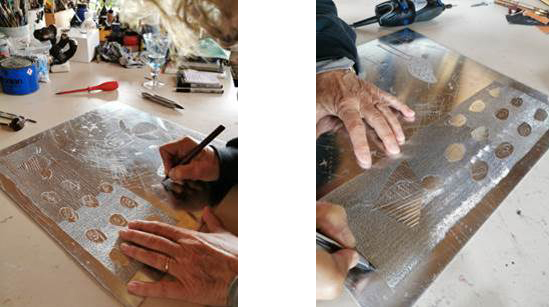 The deeper the line is cut into the board, the darker it will be.
Pure physical strength is required – an easily drawn line will not be sufficient.
Beginning with a diamond needle for fine stripes up to the self manufactured tool (a coarse screw driver, sharpened with an angle grinder) for the deep, expended cracks.
I follow the choreography of the big blue painting.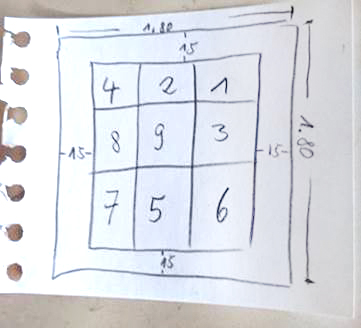 An additional difficulty, that only can be circumnavigated by improvisation, is, that the finished zinc board hardly visualise the work – all remains silvery flashed and reflecting.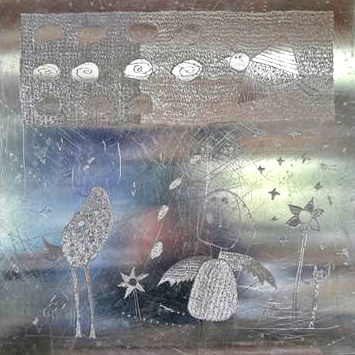 It finally will be visible (for the artist as well) when the print colour is rubbed into the deeper lines. To simulate this, I betook shoe cream.
THIS IS STILL FAR AWAY FROM A REALLY PRINT!
Et Voilà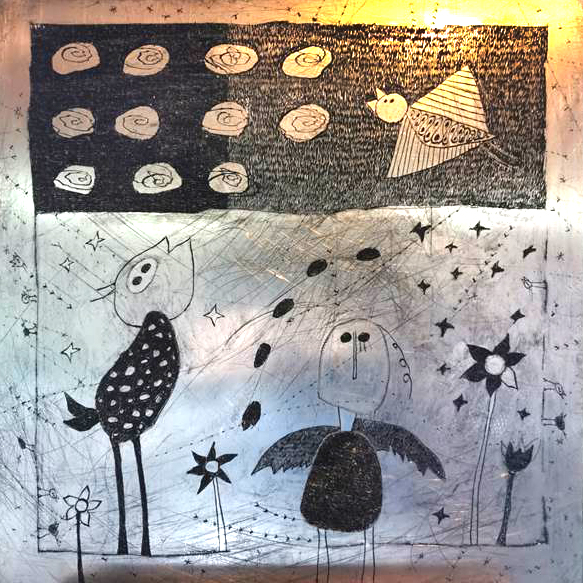 "Canzone d'amore e della libertà", Dry point, 40 x 40 cm, 2020
It is a long and interesting way as you can see, but at the end each of you will know how my dry points are made.
How complex this technique is and how fascinating.
Many thousands of stripes have to be scraped until a dense result will occur.
From now on you will get every day a new printing plate greeting …
Phase II – Studio for artist prints in Leipzig
Afterwards the finished zinc boards will be send to my printers, Jeanette and Reinhard Roessler, to their print office near Leipzig.
The prints shall be realised in different shades of blue apart from the classical black and white.
They also will document with photos all complex production steps until the final print.
Phase III – Studio
The ready graphics will be sent back to me, to number, sign and colourise by hand if requested.
The final work then will be available as single sheet, as a folder or printed all together in one.
Or, whoever likes, could just enjoy to immerse himself happily in my dry point process.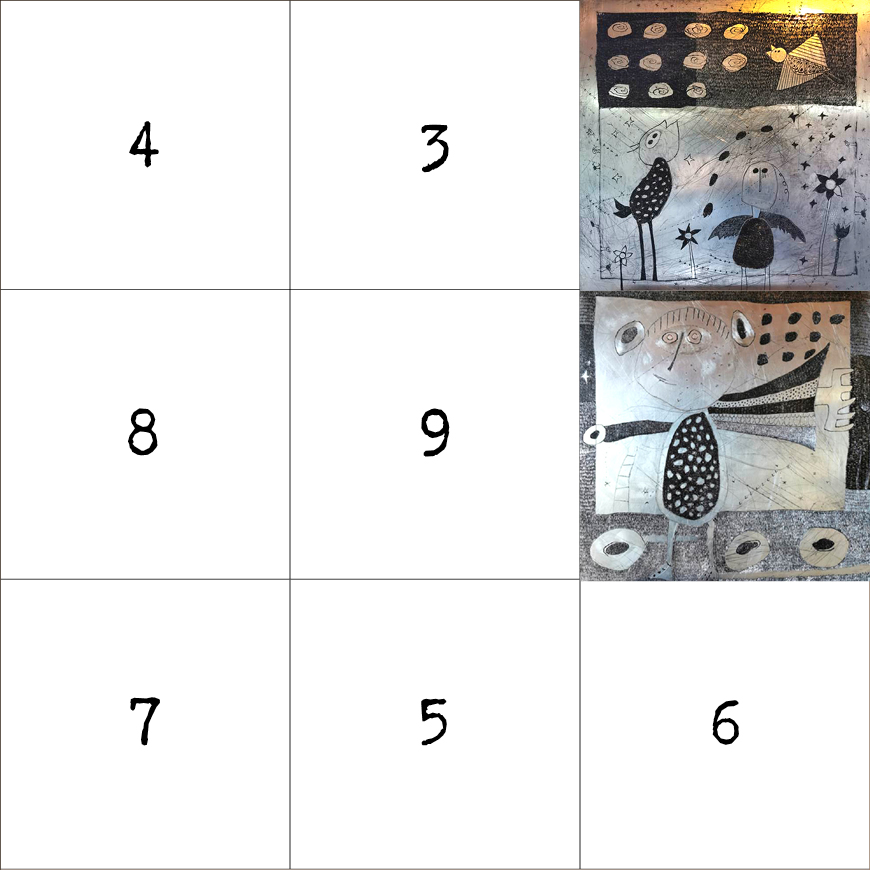 With kind and big greetings,
and tomorrow we are going ahead …