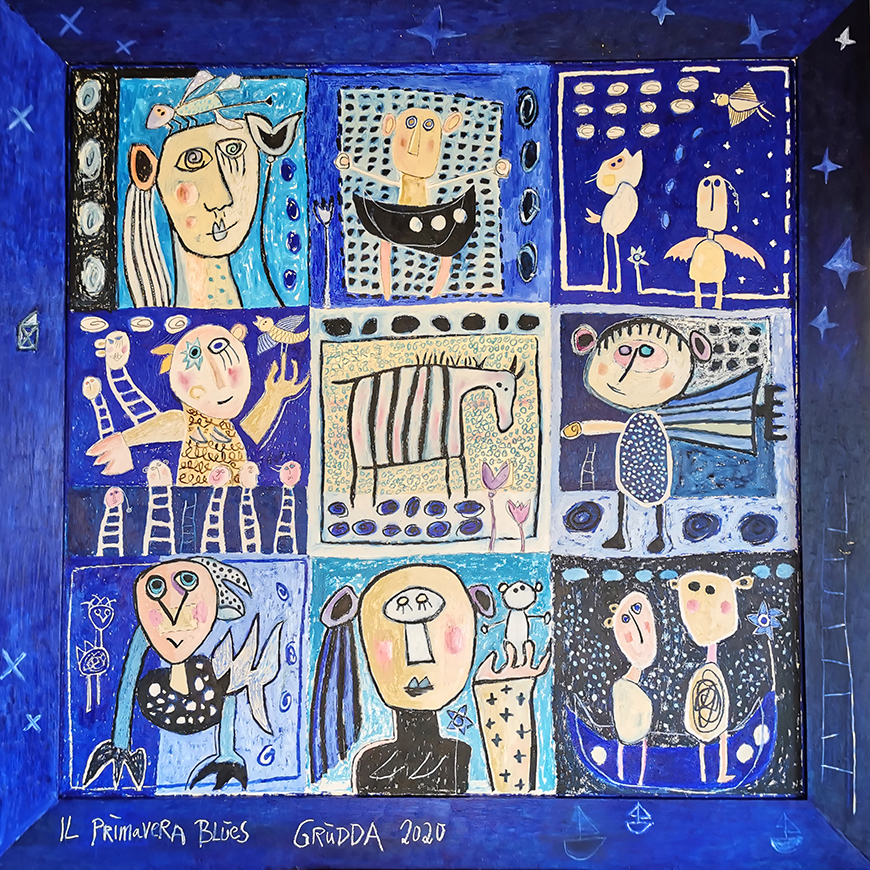 LA PRIMAVERA BLUES
Oil an wood
Dimensions 1,80 x 1,80 m
… BLUE …
Blue – the colour of the romance – stands for the desire for distant worlds and the retrieval to oneself.
The "Blue Hour", the dusk, where the outlines of reality are dissolving and start creating scope for the dream, the fantasy.
The Blues music is carried by this melancholy and desire, by the bitter sweetness of a world weariness and losing oneself.
Blue – the colour of magic and divinity.
The blue of the sky – the distance – assigned to manhood.
Its blue mirror: the seaThe blue of the sea – the deepness: womanhood.
Merging at the horizon.
The blue horizon, where the here and now and the beyond are touching.
A Blue, totally painted in blue.
Until we can fly again …
P.S.
The zebra in the centre, No. 9, is an excerpt of a previous painted picture "ALONE IN THE HALLWAY".
This zebra is – like the unicorn – a mythical creature.
MY mythical creature in these bad times, which gives comfort and confidence.
P.P.S.
We will see each other in 10 days if you like.
For a new project in a totally different technique.
I am still waiting for the material, coming from Germany – here everything is closed.