Exhibition catalog
available at Kunst & Werk Detlef Gold
INVITATION to the art fair ARTe Wiesbaden

ARTe Wiesbaden Stand D11
We sincerely invite you and your friends to the art fair ARTe Wiesbaden,
We are pleased to represent the artist Carin Grudda with a one artist show.
The exhibition will feature a catalog called IN FLAGRANTI.
 We looked over the artist's shoulder and hijacked a lot of novelties,
 including bronzes – graphics – unique pieces on canvas and wood.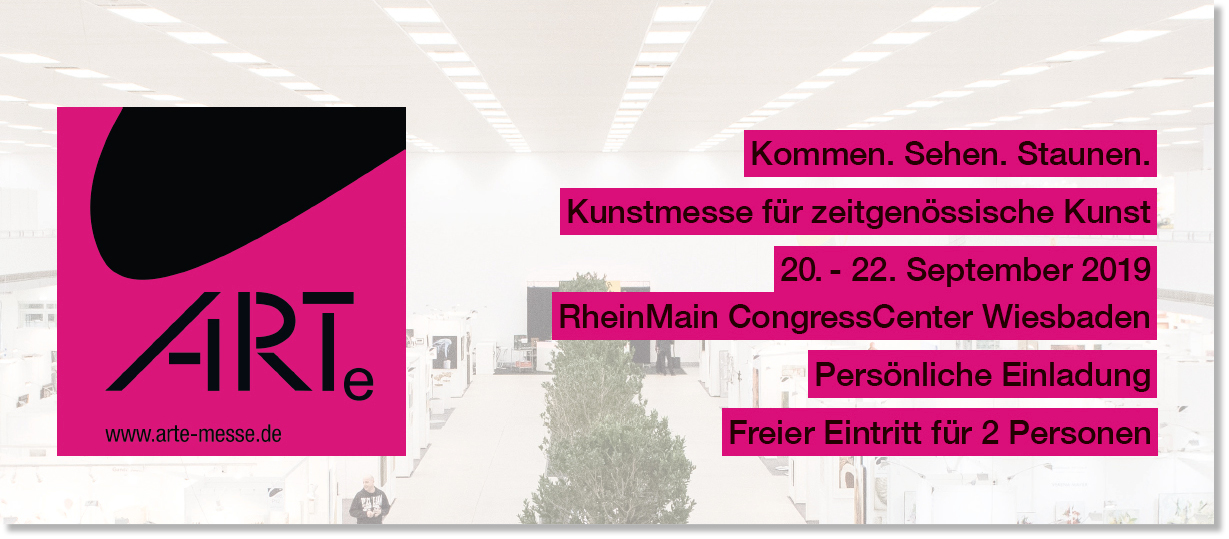 Your personal invitation to download
On presentation – free entrance for 2 persons
For the past four years ARTe has been in the metropolitan area of ​​Stuttgart and this year also for the first time in the beautiful RheinMain CongressCenter of the state capital Wiesbaden. The ARTe is thus "traveling" and in a few days it opens its doors. In Wiesbaden the ARTe records the Nordhalle with 5,000 square meters and more than 100 exhibiting galleries and artists.
Young contemporary art, presented in an open, creative environment. Selected artists and galleries transform the RheinMain CongressCenter into a large, imaginative showcase of the art scene for the region around the Hesse metropolis for three exciting days.
The ARTe Wiesbaden 2019 opens on Friday, 20 September 2019 at 5.00 p.m.  From 6.00 p.m. our small opening event will be moderated by Markus Brock known by 3Sat Television.
Appointment and Venue
20 – 22 September 2019
RheinMain CongressCenter
Friedrich-Ebert-Allee 1
65185 Wiesbaden
Opening Hours
Friday       5:00 p.m. – 9:00 p.m. (Preview and grand opening)
Saturday  11:00 a.m. – 8:00 p.m.
Sunday     11:00 a.m. – 6:00 p.m.
Kunst & Werk
Detlef Gold
Binger Straße 73
55218 Ingelheim
Phone 00 49 (0) 61 32 . 4 19 76